No matter how you want to own a yacht -- there is a type of ownership for anyone. Owning a yacht in a charter fleet is one viable option and owning a yacht privately has its advantages too. If you have owned a boat before, what were the most rewarding things and what were the biggest obstacles? Throughout the duration of this article we will discuss the pros and cons of the various types of yacht ownership.
Maintenance and Care
Do you enjoy boat projects, boat maintenance and caring for your yacht? Or, do you prefer to have your boat cared for and looked after by a group of professionals?
If you enjoy getting your hands dirty, private ownership could be your chosen path. Boats require a lot of monthly maintenance including cleaning water strainers, changing the oil, engine checks, checking oil and fuel filters, checking for corrosion, replacing gaskets, cleaning bilges and pumps and bottom cleaning. Just to name a few. If learning the in's and outs of owning a yacht and handling these things yourself is what you are looking for, you should consider owning privately.
If having someone manage the maintenance and cleaning is more your style, then perhaps owning a charter yacht is the right choice for you. As a charter yacht owner, all of the maintenance is handled by a team of experts, including all of your monthly and annual maintenance-- bottom cleaning, engines checks, haul outs, etc. Your yacht will also be in pristine condition every time you arrive to it. Each time you use your yacht, you can inform us of any issues that arise, and those concerns will be addressed by the maintenance team at the base either with immediate call out or upon your return to the marina. You will also receive maintenance reports so that you can rest assured have the added reassurance from tracking our extensive maintenance programme.
Travel Goals
Do you want to take your yacht sailing across the Atlantic Ocean? Or would you prefer to fly across the Atlantic and take out a yacht in the Mediterranean or the Seychelles or any of the other 20 destinations that you can charter out of with The Moorings?
Moorings Owners have the distinct luxury of not only chartering their own boat, but they can also charter sister ships at any of our worldwide destinations. Moorings Owners can cover more world-class cruising grounds in one year than it would take a private boat owner to cover in 5 years. This is taking into considering the private owner must sail the boat to each destination around the world.
If your idea of owning a yacht is to spend more time in the destination of choice, and not so much spending more time to get there, and if your goal is to sail in the world's most sought after cruising grounds, then charter yacht ownership might be the right choice for you.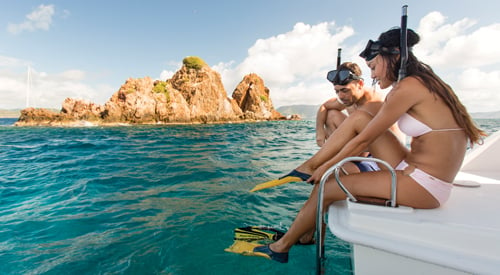 Level of Experience
Maybe you are a confident sailor, but as every sailor knows, you can always be better. Perhaps one day you dream of becoming a full time live-aboard sailor, but you would really like some more sailing experience first. Owning a charter yacht provides the opportunity for boat owners to spend time in cruising grounds that are friendly to "qualified but wanting to learn more" sailors. Have a professional skipper join to familiarize you with the area, or hire a skipper for the whole trip to sit back and relax. Because our owners can charter other yachts of similar size in the fleet, take the opportunity to try out a few different yachts for size to determine the perfect yacht for you.
After 5 - 6 years as a Mooring owner, you are no doubt going to be a seasoned sailor. After your yacht is phased out of the charter fleet and if you've gained the confidence you need, you may then choose to take your yacht on longer, more challenging passages.
While you can make some challenging passages as a Moorings Owner, you certainly will not be sailing from Bermuda to the Azores. And if this is what you desire to do the moment you buy a boat, then private ownership will be your chosen path. For many, buying a charter ownership yacht, receiving guaranteed income for 5 years while sailing your boat and sister ships around the world, is the best way to hit the water running. Then, they choose to take their boat off anywhere in the world after she phases out of the charter fleet.

Using the Yacht
To maintain a positive level of satisfaction in life, every sailor has an internal clock of how long they can go without being on the water. Some people must live on a yacht because they can't stand life on land. Alternatively, some people can get by if they can spend one week a year sailing somewhere stunning. Or maybe you fall somewhere in between. If up 12 weeks a year on the water will satisfy you, then maybe owning a yacht through an ownership program is right for you. Don't have time for 12 weeks a year? That's okay, you can sell some of your owner's time. Alternatively, if you have very specific requirements and can't use short notice bookings, and prefer to go during high season, then your owner's time will not be a full the 12 weeks. Follow this link for more information on owner's use.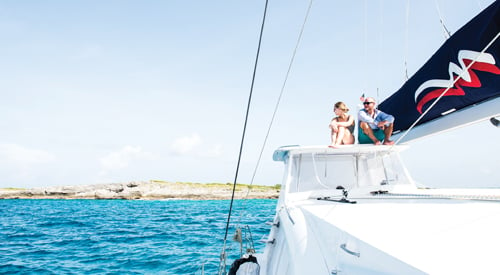 Affordability
Another factor that plays a role in owning a yacht is deciding what you can afford to buy. Sure, we would all love to buy a beautiful new cruising catamaran outright at the start, but for many this is simply not practical.
If you wish to own a new or used yacht, only to be sailed by you, then private ownership could be the right thing for you. If you wish to own a new yacht but would like to generate income at the same time to offset the cost of your new yacht, then charter yacht ownership could be the right thing for you. Owners in The Moorings Yacht Ownership Program receive a guaranteed income payment everything month-- no matter what--we have always made our Owner payments without fail.
No matter what type of format you choose to own a yacht, at the end of the day we just want to see you out on the water! If you do feel that charter ownership is the right option for you, then look no further than The Moorings. Often imitated, but never matched, we are the team who invented and perfected the yacht ownership program over 50 years ago.